Shopping Basket
Your Basket is Empty
There was an error with PayPal
Click here to try again
Thank you for your business!
You should receive an order confirmation from Paypal shortly.
Exit Shopping Basket
Save money use Less Energy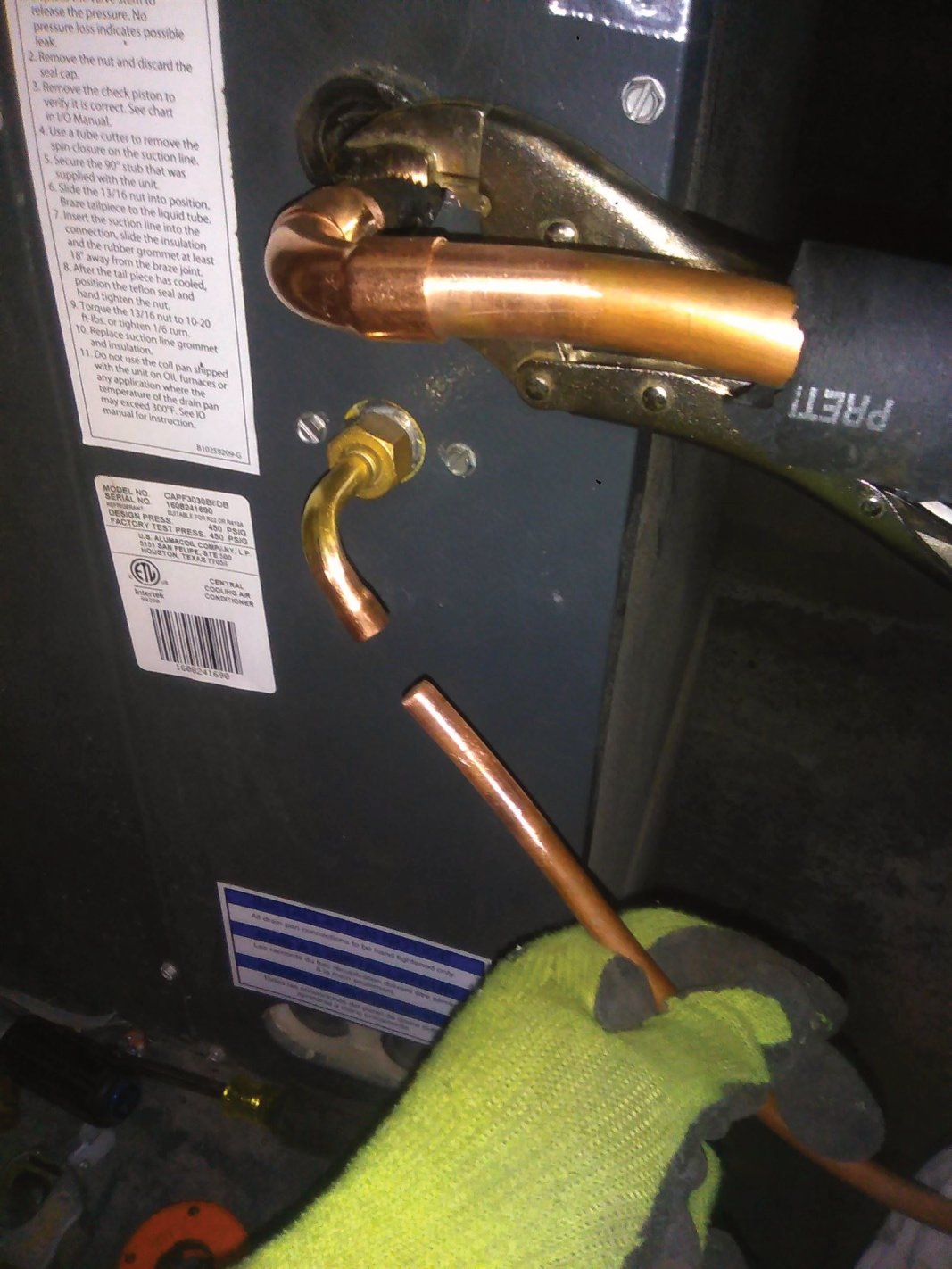 Air conditioning is something most people take for granted until it's broken.
If your a new home buyer, you will be faced with replacing a component or the entire system at some point in time. It's expensive equipment.  I sell 13 and 14 SEER equipment all the time.  The higher the SEER Rating the better the equipment is built to save energy.
So why do Air conditioning tech's charge so much? If we truly love our jobs and want to help people  stay happy shouldn't it be less expensive? 
Air conditioning is complex.  It requires a lot of thought and expertise to even put a system together correctly.
Here I am preparing to Braze copper tubing to a evaporator in a basement.  Try working with a 2,000 degree torch in one hand while applying molten alloys around in a circular pipe for a while.
This is the part on the inside.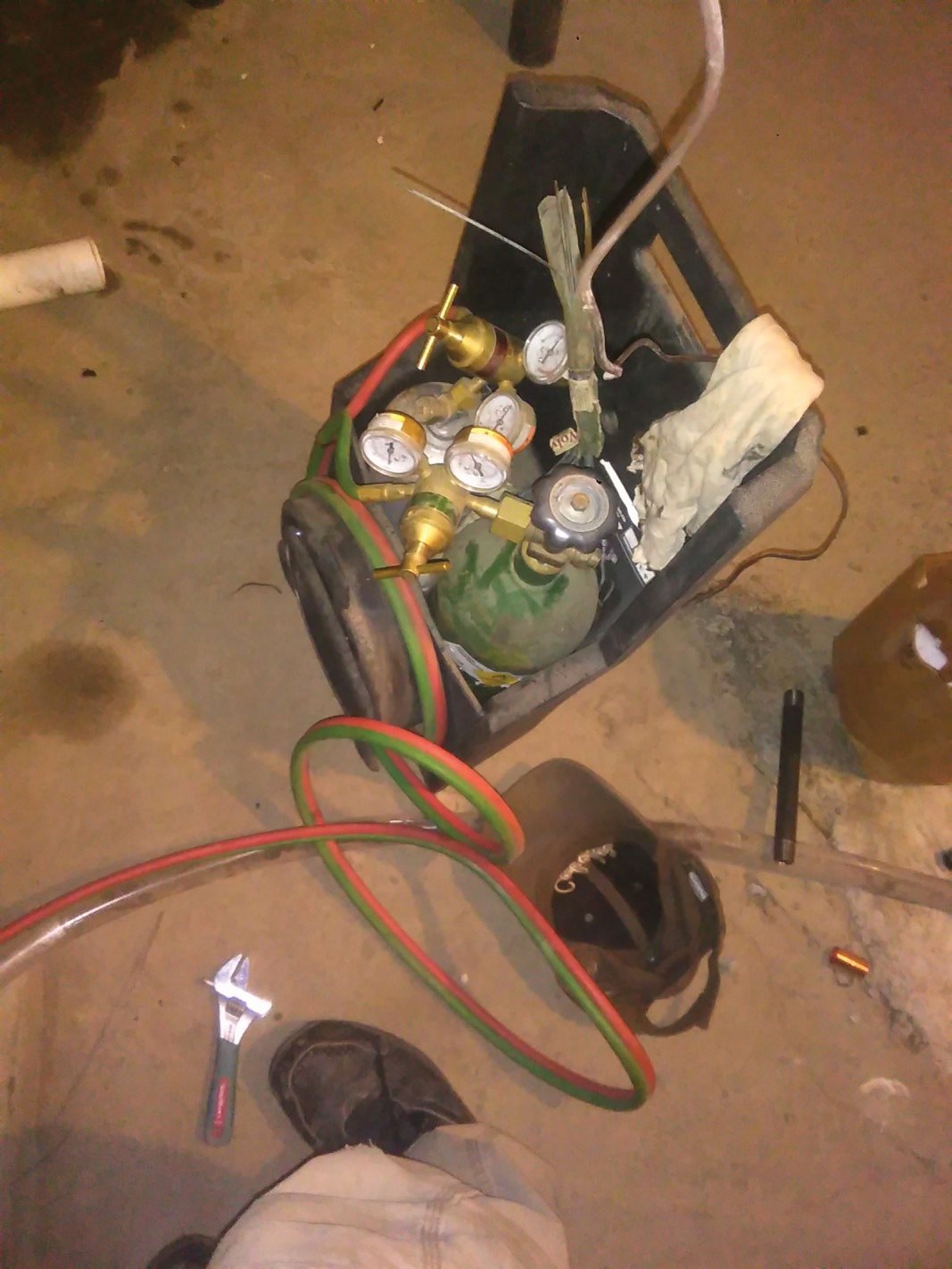 Here is a simple oxygen and acetylene torch set used to join copper pipes together or cut metal. This cost about $400 plus filling gas bottles.  You have to buy brazing rods, safety equipment and find a gas supplier to exchange your empty bottles.
It's serious business- brazing pipes. If your not careful you melt the copper and pieces of molten metal fall on the floor and you will have a hole in the pipe. Tech's are hired to work the copper tubing and fill it with refrigerant, not destroy the copper.  This would be a problem!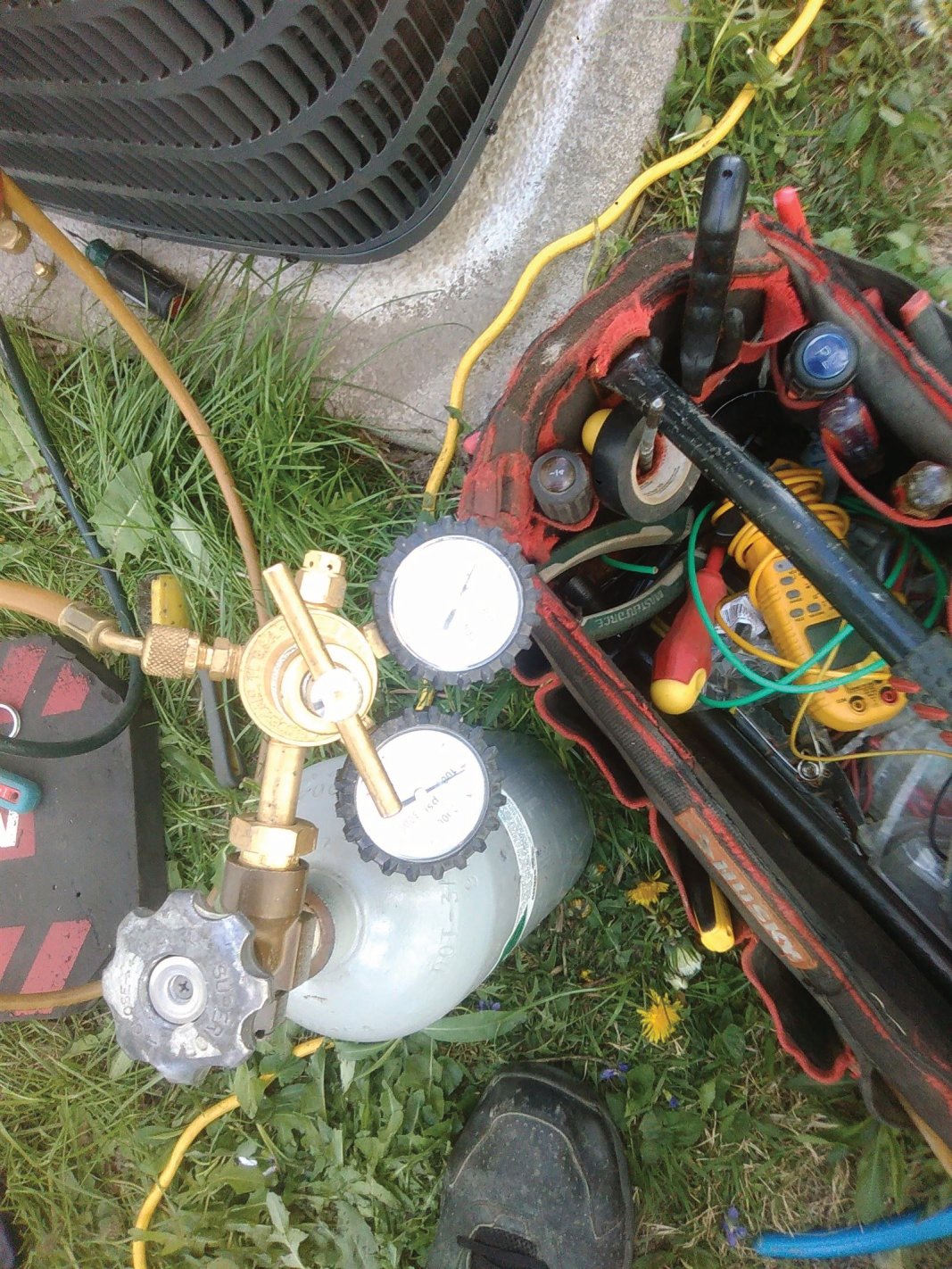 These gases have to be stored in a safe location.  The gas coming out of the tanks has to be mixed by the operator in just the right proportion to get the flame at the correct temperature and pressure.
It's takes some practice.
Once the copper tubes have all the right fittings, they are brazed or silver soldered together.. The technician has to use Nitrogen to pressurize the system at around 300-400 psi and look for leaks.  If I find one, I have to get the torch out again or tighten a fitting that I overlooked.  It happens if your not super careful.
The nitrogen is used for a few things other than just pressure test.  We use it while we braze to keep oxidation out of the system.  We have to keep a lot of this around.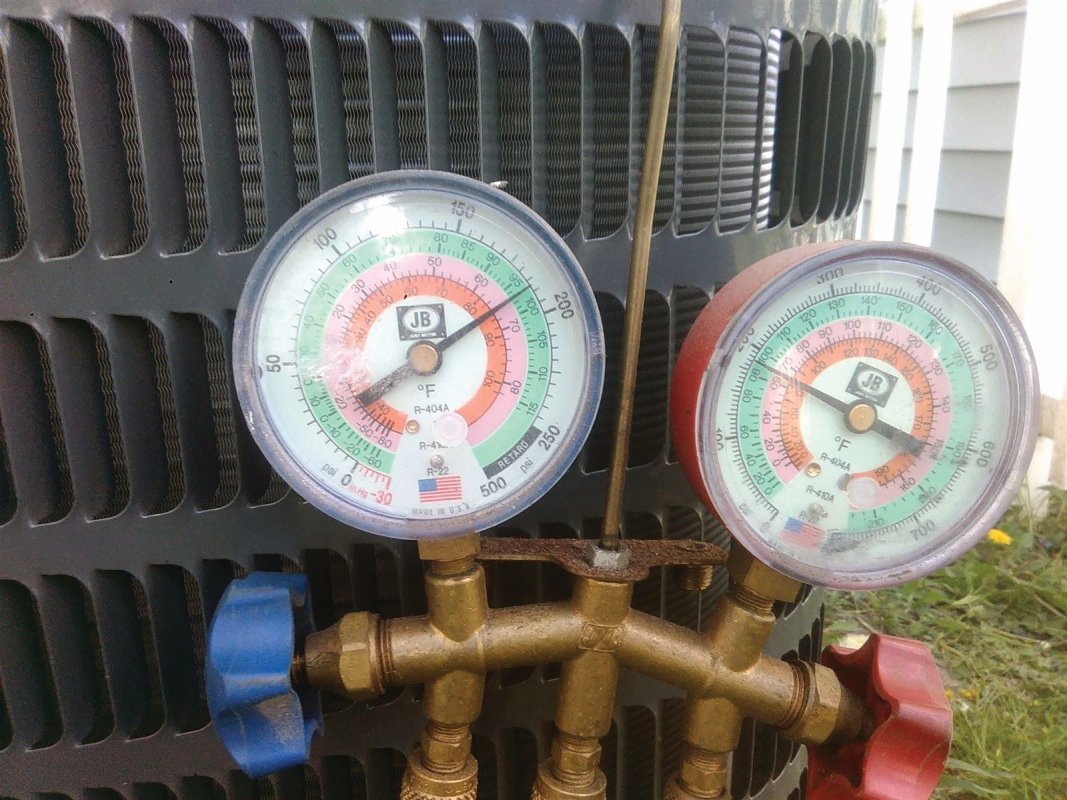 The gauges used to check pressure inside of the system are able to withstand 500 psig!  This is a lot of pressure, but on  hot July summer day, the gases get under that much pressure if there is a problem, so we have to be prepared.
If the needle doesn't move while the technician puts in the nitrogen we can move on to the evacuation process.
If it does move, we have to find the leak and repair it.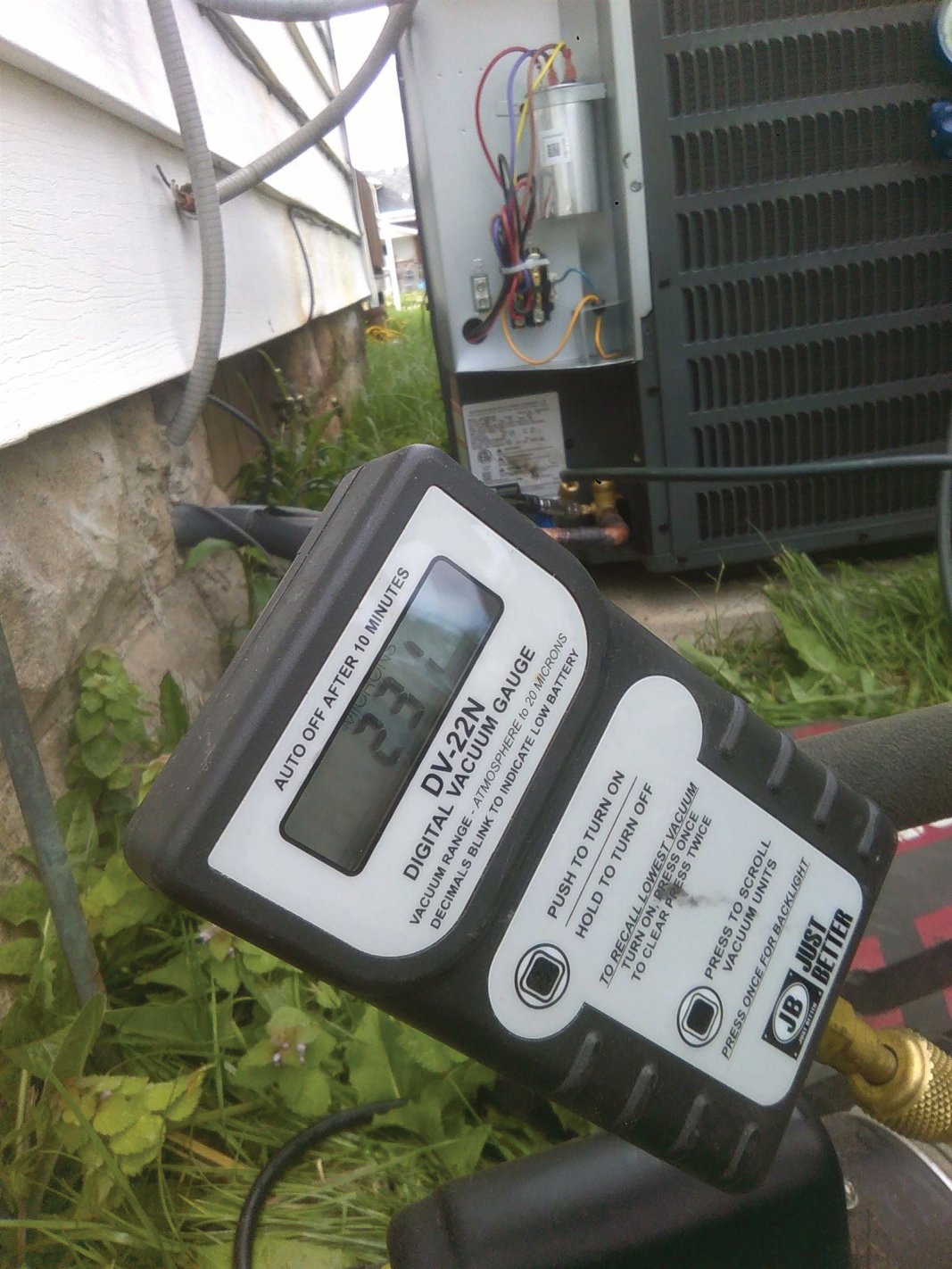 So if the pressure holds, we release the nitrogen back into the atmosphere.  It's not a dangerous gas.
Here,  I put the evacuation pump, which a powerful tool designed to pull air out of the system to use. I have removed condensables from the complete copper tubing system.
When the air is removed it creates a vacuum.  In a vacuum, water boils at a much lower temperature.  As the evacuation process is underway, we watch steam rise out of the baffle on the pump.  Here we see the micron gauge telling me that the system is down to 231 microns per cubic inch.  This is good because refrigeration and water don't mix.  Ice crystals inside your copper tubing would be called condensables and they make trouble...the system will freeze up and I mean quickly.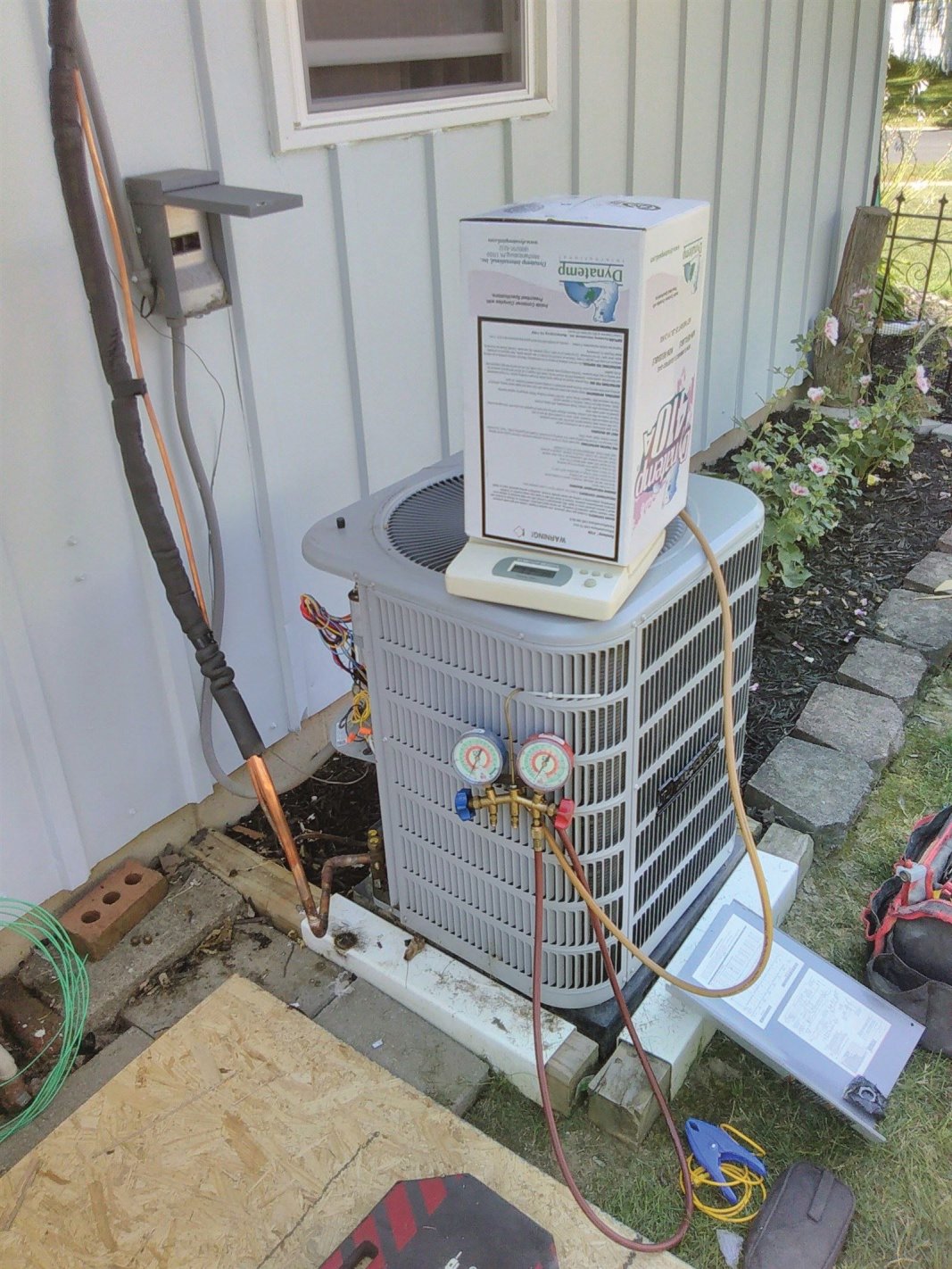 At some point the system will be ready for refrigerant .  So the tech plans to release the refrigerant stored inside the condensor and start it up.  Using special allen wrenches the King valves are opened and the gas is released into the fresh copper tubing..it's in a vacuum, so it rushes through quickly!
Inside the house, wiring passes through the thermostat on the wall.  We can turn the system on cool and if the wiring has been hook up correctly the condensor fan will turn on using electronic ignition via a magnetic coil. The compressor kicks on and wallaa!
There is 24 volts to pull the contacts together.  this voltage is supplied by the furnace to or air handler.  The 220 volts required to turn the compressor is on a disconnect.  This is 220 volts AC and it is dangerous.  You have to be trained to work with high voltage or you can get shocked really easily.
Once the levels are checked with the gauges the technician  has to figure out if the pressure are correct for that given day. If the system isn't in the correct parameters the refrigerant level has to be modified.  This is a science too.  To much gas and the system bogs down and possibly damage the compressor. Too little and the evaporator will freeze up due to an incomplete cycle. Super heat or Sub cooling is the science techs learn to work with in school. There are others ways using temperature and air speed.  This requires some good math skills and some specialized tools.  I'm happy using the super heat and sub cooling methods.
.Two weeks ago I went to clean air ducts in Mansfield Ohio. When I got there the owner said he was nearly cleaning dust bunnies from the floor every day. After carefully cleaning the house ducts and dryer vent I noticed that the new furnace has some return air leaks.
  Then I noticed the dryer vent wasn't hooked up correctly. The small particles from the dryer got sucked through the furnace and we ending up in this mans house.  Dust bunnies where everywhere!  This is because high efficiency furnaces ran the blower motor more often and at a higher volume of air back to the home.
I repaired the air return plenum with clear silicone and DUCK tape for furnaces.
I also fixed the dryer to lint trap to exit without releasing fragments of lint into the basement which ultimately get stuck someone in the home. They are very hard to see until they accumalate.
I am constantly trying to improve my services.  One way I do this is by asking my customers exactly what they expect.  Everyone is different. What means the most to you? odor removal or just getting rid of the dust! Let me know and I will try to solve the problem when I'm at your home.
 After I clean all the air ducts in a home and provide the antimicrobial fogging and citrus scent I will get an instant reaction from everyone about how good the house smells.  The real test is when I call back in 2 or 3 weeks and ask how the house feels.
That's when we both know how important cleaning the air ducts really was.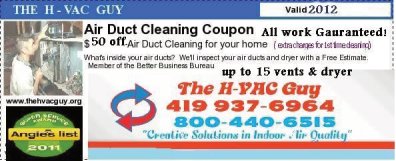 I have some good news to share.  I recently found a product that eliminates odors left behind from dead animals that get into a homes crawl space, duct work, chimney, plumbing, etc.
I have a camera to find the critters 1st, so we can get them out of there.
If your house is  a cottage or a smaller dwelling, you may notice that your home gets dust balls and lint collecting very quickly on the ceiling, fans and registers.  Your air filter will get dirty faster.

When the air handler doesn't have to move the air as far, the air travels at a higher velocity through the house, forcing the dirt to collect much faster in the cracks and crevices.  
I see houses with as little as six registers and one return ... this makes your system very efficient, but also very good for making some extra work for you in the maintenance department.

Hello Fostoria,

If you have an older home, which most of you do, the likelihood of getting all the dirt out of the system without some kind of camera or video equipment is highly unlikely.  I had Duct Hunter out to my house a few years ago.  I went back into my house system with video equipment 2 years later and looked at the ductwork.  It was filthy!  I am thankful that I decided to get the house cleaned again.  This time with the aid of cameras to make sure the ducts were clean.
I have found that the older homes here in Fostoria usually have a floor return system and most of the supply ducts are on the 1st floor of the house. On two story homes there is usually some odors, fungus and mold growing in the duct work.  Cleaning the return on the older homes can be a bit more challenging for any system, but with Roto Vision, you have a 95% better chance of getting all the dirt out of the system.

When your entire HVAC system is clean and functioning correctly, you have a much greater chance of saving money on utility bills.
Ridding strong odors in your house...
You might already have tried to get rid of the odor yourself, so I'm going to tell you how to get rid of the stubborn odors that don't go away with chemicals you might try from places like a hardware store.
Odors caused from CATS,SMOKE, URINE, NICOTINE, and  CONTAMINATION from MOLD & MILDEW and FUNGUS can be pretty stubborn.
Here's what I recommend:
1st.  If the odor is light, you might try using Arm and Hammer baking soda powder over all the carpets.  Having the carpets professionally extracted might solve the problem, but if the odor still comes back you have to replace the carpet and padding.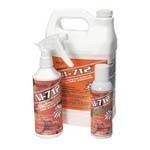 IMPORTANT-Before you put new carpet and padding down, use an odor eating agent like Neutron Industries orange odor eliminator.  I've use this product and it works.  Follow the directions.  You have to add water over the product to activate it.
2nd. Once the carpet has been extracted, you will have to wash the walls with tri-sodium phosphate.  You can get it at the paint store or a hardware.  In some cases you have to prime the ceilings and walls with a stain and odor blocking primer and then paint.  It just depends on how heavy the nicotine is.  I usually wash the walls with a good degreaser, but male cats mark their territory and you cannot see the trails on the walls without a black light.
3rd.  Call a professional to clean your air ducts.  You might have to use a fogger to stop the odor trapped inside, but taking all the fuzz and lint out of the air ducts will usually give you some good results. Getting rid of the allergens, mites and microscopic life takes some professional fogging. Your duct work may be full of all kinds of odors. 
You local H-VAC Guy can help you at 800-440-6515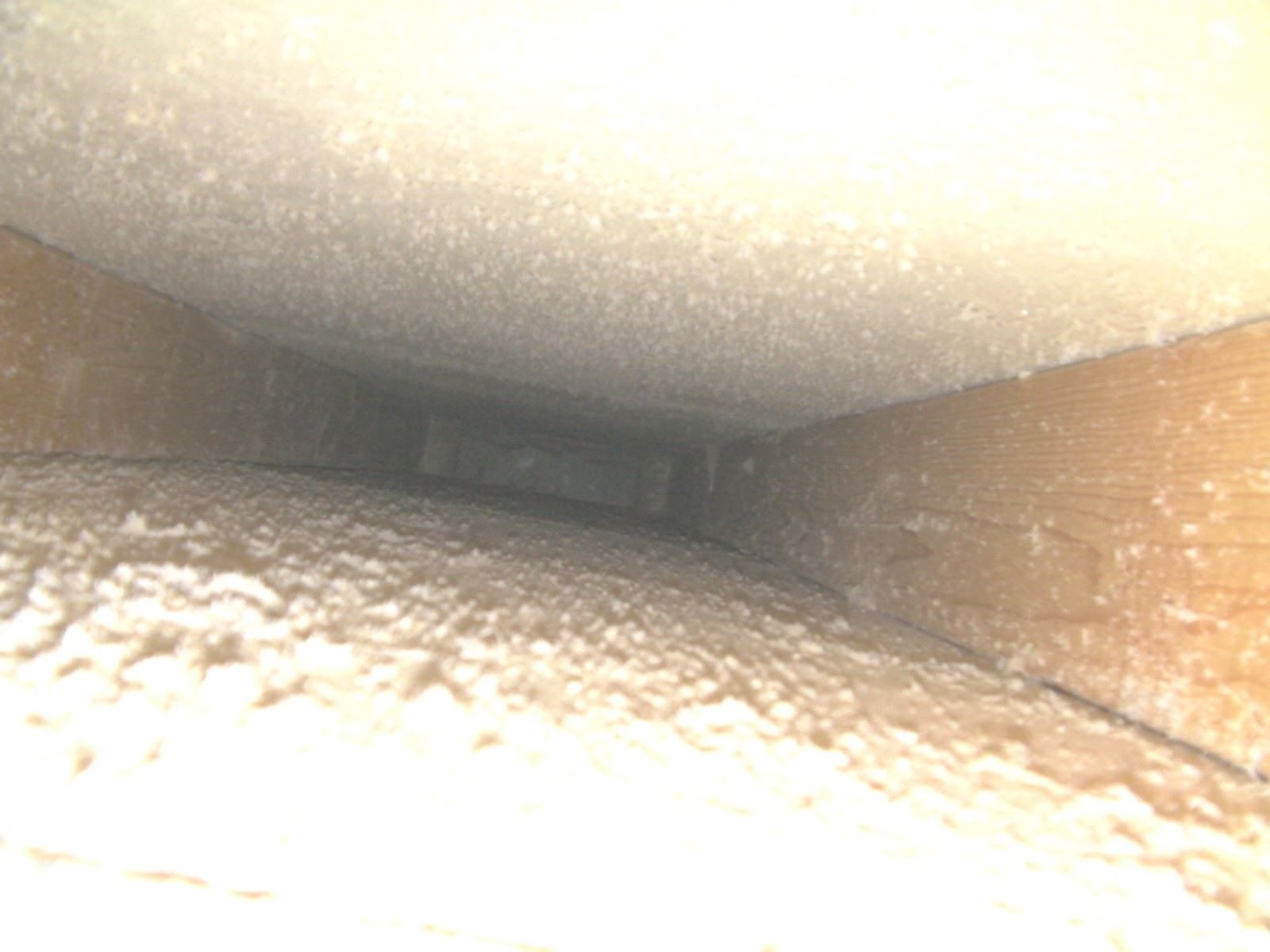 Hi, This is Dave Evans
I've been in the service industry all my life.  I'm also a EPA certified HVAC technician.  What does that mean? It means I could take a test and get at least a 70%.  It's the same with every profession-doctors included!  It's the experience that really counts and the knowledge to apply what we learn to correctly take care of business. This helps us all get our jobs done efficiently.
There are unions and trade organizations that every professional joins, but the bottom line is "personal conviction to do the best job possible and NOT CUT CORNERS.  I believe "a good name is better than anything!  My customers tell me all the time, "I can see you know what your doing".  I don't belong the NDCA because it's really expensive and "You" the home owner will end up paying for a companies membership in the organization.  
What you need to ask over the phone when you call for a technician to clean your air ducts depends on your situation...
You need to ask yourself "Why am I getting this done" ...is it because there's dust everywhere in your house or do you think you got mold issues?
Or is it another reason...for instance just the thought of possibility of sharing another families germs with your family.. or
"Does your entire house smell bad?"...Well, here's a few questions?
Ask them: " Do you have a FREE inspection 1st or do you include it in the duct cleaning service?"
The H-VAC GUY does free inspections & I will tell you the remedy for your situation-even how to get rid of strong odors.  We do Fogging-it sanitizes your duct work and get's rid of odors...by the way..you don't have to leave your house-regular fogging won't hurt you, but in some cases like smoke damage or a cat smell-that's a different story.
"Do you have to clean every vent duct in the house?" If you have an odor problem, the answer is yes".... if it's just to clean the dirt out of the duct work the answer might be "no" it depends on the situation...you might have had an addition added to your home last year. 
How dirty does it have to be to want to pay for the cleaning?
Ask how much they charge.   Typically you can get a technician out to your house for $100 or less to clean the main trunk line, but there are many factors to consider before you ask them to come.
Here's a few thoughts.
"Can your vents be cleaned from the floor level of your home?"
"Is your air handler in a difficult place to service?"
"Even though you may have furnace techs inspect your furnace every year, would you be willing to pay to have the furnace evaporator coil, and squirrel cage examined with a video camera?"
"What do you think they might find?"
"When was the last time you replaced your air filter and what kind do you typically buy?"
"Do you have pets, leaving behind hair and dander?"
"If you hire a company to clean your equipment and air ducts, what kind of guarantee are you looking for?"
The H-Vac Guy is a duct and HVAC equipment cleaning service that guarantees that you will feel and see  the results of our service the same day!  We video the whole process so you can share it with your family, so they will know it was done right.
/